The Farm Equipment Service Technicians
You Can Trust
Rogers AG Repair is a family-owned and operated business that has served southeast Iowa since 1986. In 2006, Rogers AG Repair began the Geringhoff journey by offering their Corn Heads which has now become a staple for the business.  Rogers Ag Repair services Geringhoff customers from all around Iowa and throughout the Midwest.  Dan Rogers founded Rogers AG Repair in 1986. He watched his hard work and passion for the AG repair industry grow in phases.
After working for a local Implement dealer for 16 years, Dan made the tough decision to leave a guaranteed paycheck for his new journey. It began in his small garage in the country for a short time and eventually, he was able to move into a larger shop at Rogers AG Repair's current location. The original building at this location still exists and still gets plenty of use.
The building was battered by a tornado in 1998 but it wasn't enough to keep the business from continuing operation. The building was repaired shortly after and has seen waves of equipment come through since. In 2015, a much-needed, long overdue addition was added to the original shop building. The original shop could squeeze a combine and a couple of tractors in but not much more.
With the addition of the new shop, Rogers Ag Repair can fit in multiple combines, tractors, lifts, utility tractors, wagons, etc. to work on all at once with room to spare. "Looking back, it's amazing to me how we had to figure out how to puzzle piece just 3 or 4 pieces of average-sized equipment in the old shop and now we can have 40' draper heads, multiple corn heads, combines, tractors, and still have room."
"Our customer base ranges from livestock, row crop and hobby farmers so the types of equipment we work on cover just about everything. With such a wide range of equipment, our education is ongoing, to say the least.  We continue to learn each day with the more experiences we gain and with the sophistication of equipment each passing year."
"I believe we must keep pushing ourselves so we may gain the respect necessary of those in our community and surrounding areas that we can tackle just about any repair need they have or know where to direct them. We continue to build and maintain existing relationships simply by being honest and treating customers as we would want to be treated by them. We approach every customer's needs as though they were our own."
"I believe in the service we provide to the AG industry and will continue to do whatever we can to satisfy our longtime loyal customers and new customers. Quality of service is Rogers AG Repair's number one priority. With all the years of combined experience, Rogers AG Repair is able to fulfill their clients' needs with confidence."
- Dan Rogers, Owner/Founder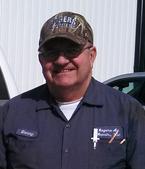 Dan Rogers was a great businessman, family man, and leader in the community. Dan passed away on November 28, 2020. He will be missed but his legacy will continue. After decades of hard work, he may finally rest in peace.